Signing a lease can be a little unnerving, especially when that lease includes a yearly bump in cost, add-on fees for consumables, overage charges, and a range of other costly things that can really sneak up on you if you don't read the fine print.

See which Canon copier made the cut!

That said, few brands have been in business longer than Xerox. Providing a full range of multifunctional peripherals, they offer products for every office environment and will lease most if not all of those machines to small, medium and large businesses alike. But there are a number of factors that you need to pay attention to and be aware of before signing a Xerox copier lease.

Costs and deliverables associated with a standard Xerox copier rental or lease:

s

The first thing to be aware of is that the cost of a copier lease will vary wildly from vendor to vendor and location to location. Typically billed on a monthly basis and centered on the number of prints you make, sample leases run anywhere from $620 for 10,000 prints down to $65 for 1,000 color copies and 500 black and white. On the higher end, you can expect to pay around $2,600 per month for a top-of-the-line machine that features a one-drawer, high-capacity feeder and finisher with booklet maker, with print rates around 0.088 cents for color and 0.012 cents for black and white.

If these rates seem high don't let them discourage you. Companies will often times work with you on a Xerox rental plan that can work with your monthly budget. A lower rate with a longer lease is an attractive option for most companies looking for an amicable deal.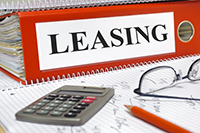 In addition, there are a number of other things to pay attention to before signing on the dotted line, including:
Lengthy contracts (that will go up year by year) – Xerox is reportedly famous (read: notorious) for getting customers to sign lengthy 5-year contracts so they can upsell them on goods and services. The key thing to remember with any lease is that virtually anything is negotiable, including contract length. Shoot for a 2-year agreement if you can, saving yourself the hassle and costly legal expense of trying to get out of a copier lease if the machine doesn't end up working for you.
Run tests before signing a Xerox lease – Any quality vendor will have a facility where you can visit and run sample tests on the machines you're considering. It's important to note that, according to some reviews, many people were surprised to see the inability of certain models to stand up to their quality expectation – especially in regard to color printing. The best way to determine the quality of the printer is to take two sample jobs from your office and run them on the test machines. If they meet or beat your expectations, you've got a winner. If not, keep looking.
Remember: nothing is free – The old adage, 'if it seems too good to be true…' is worth its weight in gold when considering a Xerox copier lease. "Free" supplies and consumables are usually never free, resulting in costs that resurface in the form of higher increases to your annual service agreement and other charges down the road. One way to potentially lower the cost of a lease when negotiating is to waive the "free" supplies and purchase everything you need from a wholesaler. Large office-centered retailers like Staples even provide preferred wholesale pricing and delivery for almost any size business, in particular those requiring large quantities of supplies.
What Others Were Looking For...
I need a Xerox lease quote on a 48 month lease for 16 copiers ASAP: 8 Xerox WorkCentre 5230, 7 Xerox WorkCentre 5150, 1 Xerox WorkCentre 7435. These machines need to have: 3-50 ppm copy/print/scan/fax 2-paper trays (1,000 sheets), bypass tray (100 sheets), integrated staple finisher.
-Manufacturing Company, Carrollton, TX
We are a small non-profit that are just starting out. We're looking for a long term Xerox lease that will cover maintenance as well. I'd be interested in learning about a "non-profit" program if available. Other companies have offered to have us just pay for the service of the copier.
-Educational Non Profit, Akron, Ohio
I'm looking to do a short-term Xerox lease or rental on a Xerox Nuvera 100 and 200, and a Xerox DocuTech 6135. Each in base configuration.
-Consulting Company, Hackensack, NJ
I need information about the Ricoh Aficio MPC3500 copier - what is more cost effective - renting or purchasing.
-School, New York, NY
Our small office is looking for a Xerox W7835P or a lease for a similar copier model. Our budget is around $150 - $200 per month. We'd be open to meter charge as well for a lower rate.
-Marketing Firm, Boston, MA
I am interested in buying a used or refurbished Xerox 240 or 250 series, no finisher.
-Construction Company, Denver, CO
I'm looking to lease two machines that are comparable to the Xerox ColorQbue 9203 and Sharp AR-M350 in the ability to scan large files as well as printing/emailing/faxing (outgoing only).
-Real Estate Agent, Denver, CO
We are a small law firm with a dozen employees. We need a Xerox lease to support our litigation practice. We currently have a mid-size Xerox but it is too small and we need a second, larger Biz Hub.
-Attorney, Birmingham, MI
I am looking for a good reliable copier for our small office. I currently have a Xerox WorkCentre XD102. I is old, slow and hard to purchase copier cartridges. I like the idea of two sided copying. Also want one a little faster than what I have.
-Agriculture Company, Montross, VA