Finding the best copier for a small business is no small feat. You may have spent hours wading through customer reviews to determine which copier model will stand the test of time and give you the most value for your investment, especially if you have a limited budget for office supplies.
Number of Employees
10 - 30 employees
Over 30 employees
Under 10 employees (Home office)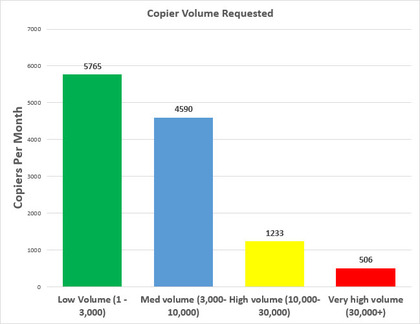 Sound familiar? Fortunately, you've come to the right place. You can use the helpful guidelines below to choose the right copy machine to meet your business's needs based on office size, industry, and top features.
Getting a rough estimate of your expected copier volume will help determine what size copier you should be looking at.
The best small business copier for less than 10 employees/home office
Most small businesses and home offices can greatly benefit from the use of a multifunction copy machine instead of a separate printer, fax machine, and scanner. Since a small business is unlikely to use a copy machine hour after hour, it will be easy to balance copy jobs with other vital tasks, like printing, faxing, and scanning.
Small businesses or home offices can start with an affordable model like the Brother DCP8110DN Laser Multifunction Copier for $299.99. The machine has an impressive print and copy speed of up to 38 pages per minute and is network-ready for quick Internet and high-speed USB 2.0 connectivity.
Small businesses with up to 10 employees that copy on a daily basis, in a legal, medical, or insurance industry, may prefer the Canon ImageCLASS D1300 Multifunction Copier Series for $499.99. The machine prints, copies, scans, and faxes at up to 35 pages per minute with advanced features that include a 50 sheet duplex automatic document feeder.
What Others Paid:
We are leasing a Xerox WC7335P for 5 years. We contracted the usage of 7,000 black and white copies and 2,000 color copiers per month for $287. We were offered other perks for supplies as well.
- Office Manager, Cambridge, MA
The best small business copier for 10-30 employees
For a mid-sized small business ranging from 10 to 30 employees, a basic digital copier must have higher functionality in order to support output in a busy workplace. Enter the HP LaserJet Pro 300 color MFP M375nw at $599.99.
The copier is designed with efficiency in mind first of all to produce professional quality color copies, recommended for a business that often prints their own flyers and marketing materials, like an advertising or graphic design firm. The copier also boasts printing, scanning, and faxing features with mobile printing commands that can support telecommuter employees.
What Others Paid:
We leased a refurbished Ricoh MPC4502 previously owned by another practice in the area. The lease terms are for 5 years with a $1 buyout at the end. They worked with us to set up a monthly payment that could fit our budget.
- Private Practice , Burbank, California
The best small business copier for 30+ employees
A topnotch small business copier designed for more than 30 employees in a workplace is the Xerox WorkCentre 6505/DN. The machine boasts an impressive speed of up to 24 pages per minute in black and white and color, meaning that efficiency won't be compromised, even when multiple employees use the copier throughout the day. Additionally, advanced features like automatic duplexing, security authentication, and Xerox color correction technology are included.
Or, a small business can consider the Dell 3333dn Multifunction Laser Printer to print, copy, scan, and digitally manage documents with up to an 80,000 page monthly duty cycle. For any business industry that routinely deals with paperwork, like a medical office, insurance company, or accounting firm, this high-volume machine will give you the most value for your investment. It also provides easy workplace integration with intuitive user controls in an LCD color touchscreen with a 17 button keypad.
What Others Paid:
We got quotes from a number of different copier sales reps, we ended purchasing a Toshiba 4500 Series for $11,000. The contract included a comprehensive maintenance policy which covered toner, ink, and supplies.
- IT Firm, Aurora, Illinois p In order to make the wisest decision when purchasing a copier for your office size and industry, start by shopping for the nonnegotiable features that your office needs to boost productivity. From there, you can compare prices and manufacturers to select the right model for your workplace. p Interested in one of these models? Connect with suppliers here to compare prices or lease rates.