2014 is a big year for copiers. Office copiers, large and small, have received a variety of awards from reputable organizations that reflect their functionality, longevity, and tech-forward features. Knowing what copier features are popular will help you understand what models, and manufactures you should look at.
Below are the top copier features requested so far in 2014. Most copiers in today are multi-function printers, but knowing what features you'll want in advance will help you decide on what dealers and suppliers to look for.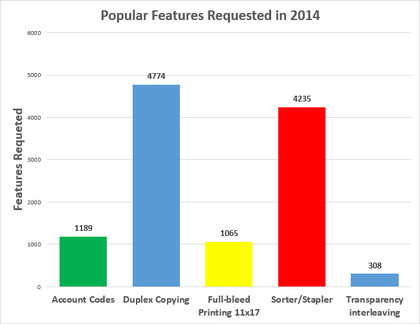 If you're still scratching your head about which copier is right for your office, consider these top copiers of 2014 as outstanding choices.
Years past have brought us great selections in award-winning copiers:
5 top copiers of 2014
But now it's time to make way for the new lineup of award-winning copiers of 2014:
Canon imagePROGRAF iPF765 MFP M40: The Canon imagePROGRAF is Buyers Lab's 2014 pick for Outstanding Color Wide Format Technical MFP. According to BLI, the award was based on the machine's "rich feature set, noteworthy versatility, superb reliability, and trouble-free cloud connectivity." The Canon imagePROGRAF features copying and scanning on an oversized touchscreen monitor with cloud service; the copier is designed to store, share, and access documents via the cloud using Canon's Direct Print & Share technology with remote access.
Ricoh MP C6003 series: Just in time for 2014, the Ricoh MP C6003 series received the Better Buys for Business Editor's Choice Award in September 2013. The series includes five different models that offer matching color and black-and-white copy and printing speeds. The series also offers scanning with optional faxing features. According to Better Buys, the Ricoh MP C6003 series stands out because of its "rugged and powerful MFPs that fit a wide range of office needs."
Konica Minolta bizhub C654e, C754e: Another September 2013 Better Buys for Business Editor's Choice Award winner, these Konica copiers are standout choices for high-volume businesses. The machines feature a 9 inch color touchscreen using touch and swipe technology in the INFO-Palette design, similar to a smartphone. In total, the heavy-duty machines can support up to 3650 sheets of paper input. Better Buys reaffirms their "strong multifunctionality, extensive security features, and paper-handling capacity."
Xerox Color J75 Press: The Xerox Color J75 Press was honored in Buyers Lab's 2014 Pro Awards as a production printer in Outstanding Color Light- to Mid-Volume. The user-friendly machine provides an exceptional image quality for light- to mid-volume use; automated color calibration is controlled with a standard inline spectrophotometer. Buyers Lab describes the greatest benefit of the machine as "simplifying and automating tasks that typically require much more manual intervention with competitive devices."
Ricoh Pro C5110S: The Ricoh Pro C5110S was also recognized in Buyers Lab's 2014 Pro Awards as an Outstanding Color Light Production Device. The Ricoh Pro C5110S boasts high-speed, affordable color printing at an impressive 80 ppm. Other notable features include the Plockmatic professional booklet maker and GBC professional die punch to complement the exceptionally sharp image quality. Buyers Lab describes the machine as offering "production-class capabilities at an entry-level price point," translating to professional print products on a budget.
As you start shopping for a highly-rated 2014 copier, keep these prestigious awards in mind. Although the Energy Star Partner of the Year award has yet to be decided for 2014, it's another key honor to look out for after it is awarded—denoting sustained excellence in energy management. Copier manufacturer Sharp was the Energy Star winner for 2013.
We make it easy to get quotes and connect with dealers of these award winning models. Compare rates before you purchase.