We've poured through copier reviews on multiple websites, from real people and businesses, so you don't have to. Here are the 5 best-rated copy machines, their features, pros and cons, and what they cost.
And the winners are…
#5: The HP Color LaserJet CM2320fxi Copier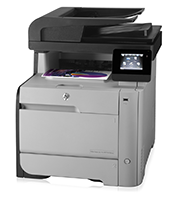 This copier is fast, produces high-quality graphics and photos, and includes all the standard bells and whistles of a multifunction copier. The printer would be ideal for medium-sized businesses and offices.
Pros: It's very fast and easy to use and was named as an Editor's Choice printer at PCMAG.com. This copier is also excellent value, its average price being about $1,800.
Cons: The one negative thing reviewer's note is that the text quality is less impressive than graphics and photo quality.
#4: The Lexmark X548dte Laser Color Copier
This Lexmark copier is a color copier that copies at a speed of 14.5 cpm. It's designed to fit the needs of a small business or small office.
Pros: Decent speed copier at a great price of about $1600, an excellent choice for a small office. This machine works for both PC and Mac.
Cons: Some reviews stated that the scanner cable prevents the lid from folding out all the way, but this is really a minor issue.
#3: The Xerox Phaser 8560 T Color Solid Ink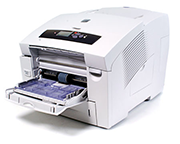 This multifunction copier has all the standard printing, copying, scanning and faxing functions. It can scan at a quick 22 copies per minute (cpm). It can do double-sided scanning, network scanning and functions on the PC or the Mac. You can also scan to email and the network. This copier also comes with a wireless module which enables printing without cables.
Pros: Copiers reviews found online generally rank this printer very high. In most reviews, the general verdict was 4 or 5 points out of five. Most multifunctional printers like this one often cost over $5000, but the Xerox Phaser 8560 comes in at just under $2,500. Considering that you can also purchase it in installments, or just rent it, it's an excellent value.
Cons: Some people said that the printer can get noisy. Something like this will only be an issue depending on the setup of you office.
#2: The Dell 3115cn Color Copier
The vast majority of color copier reviewers consider the Dell 3115cn to be a good choice. It can print at 31 cpm, which is faster than the Xerox Phaser 8560. There is also an automatic document feeder and a full color flatbed scanner. A high speed fax modem can also be used directly from the printer.
Pros: Copies and prints at a fast speed and is easy to set up. This copier provides excellent value for its cost – on average it costs around $900.
Cons: Several copier reviews note that photo quality is sub-par on this copy machine, and there are also some design quirks that can make it frustrating to use. Additionally, quite a number of users found it necessary to have the glass sheet cleaned internally before the scanner could be used.
#1: The Canon ImageCLASS MF7460 Laser Multifunction Copier
This Canon copier is a compact multifunction machine that's built for the needs of a small office. It can duplex copy, print pages at a speed of 25 ppm, and has an automatic document feeder.
Pros: On various websites, people reviewed this machine with 5 stars out of five, one user saying that Canon copiers are "reliable" compared to other brands. Another reviewer said that the unit makes no noise when in sleep mode, and boots up quickly. With ample paper storage (two 250-sheet paper cassettes and an 80-sheet paper tray), this machine won't need to be constantly fed with paper. It can also print 11x17 pages. It's an excellent value for either a small business or small office, priced at about $1,300.
Cons: One user reported phone line troubles - if the machine is hooked up to a phone line, it will "answer the phone." This is probably an issue that can be avoided when setting up the machine.
Seeking out copier reviews will help you decide on the best option and machine for your business. Don't just settle on the copier reviews on a manufacturer's site, independent reviews will help you make an unbiased decision.
Thinking about leasing a copier instead of buying one? Get copier lease rates on one or more of these machines.